BARX FX
Experience the power of BARX FX in emerging markets
Our award-winning emerging markets platform for FX gives you the opportunity to experience seamless integration into our market leading FX G10 functionality, and leverage the power and benefits of our BARX FX trading suite.
Key Features
Access to emerging markets liquidity in over 70 currencies across the globe.
Live streaming prices and one-click trading available across a broad range of EM currencies across spot, forward and swaps.
Request for quote (RFQ) trading for less liquid EM currencies.
Access to our full suite of options functionality for EM - both deliverable and non-deliverable currencies (NDFs), vanillas, exotics and multi-asset investments (MAIs).
Anonymous algorithmic execution across a variety of EM currencies using our revolutionary order management offering, PowerFill.
Access streaming execution in a range of NDF currencies as well as our NDF Fixing Monitor displaying real time fixing rates.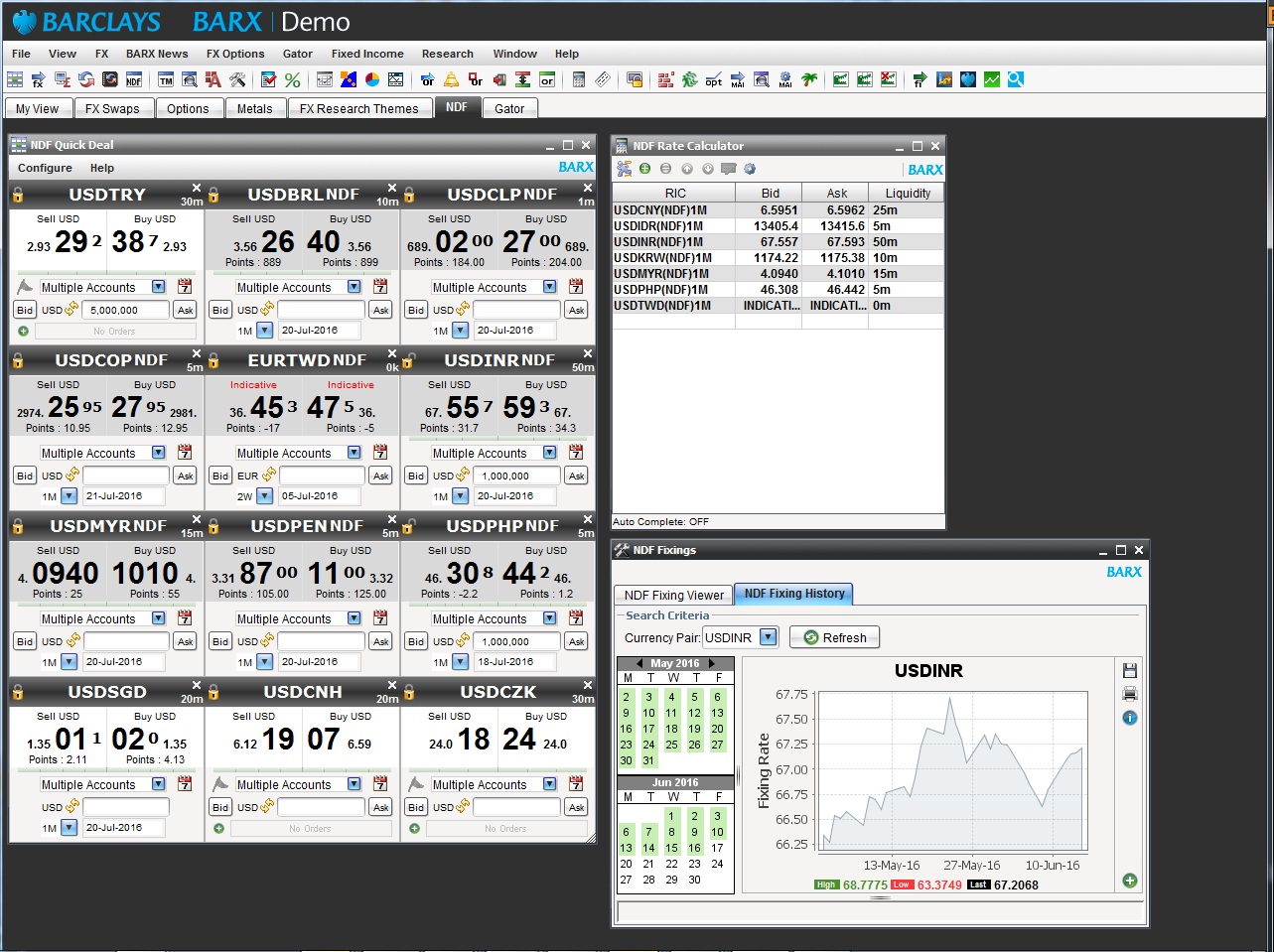 NDF and Fixing view for Emerging Markets on BARX
LATAM
EEMEA
ASIA
Foreign Exchange - Cash and Options
Deliverables: ANG, BBD, BMD, BSD, BZD, JMD, KYD, MXN, TTD and XCD
Deliverables: AED, BGN, BHD, BWP, CZK, EGP, GHS, HRK, HUF, ILS, JOD, KES, KWD, LSL, LTL, LVL, MAD, MUR, NGN, OMR, PKR, PLN, QAR, RON, RUB, RSD, SAR, SZL, TND, TRY, UGX, ZAR and ZMK

Deliverables: CNH, HKD, INR (Onshore), KRW (Onshore), SGD and THB

NDF: ARS, BRL, CLP, COP, PEN
NDF: RUB and UAH
NDF: CNY, IDR, INR, KRW, MYR, PHP and TWD
Non-deliverable forwards (NDFs) trading has never been easier...
NDF Quickdeal Panel
Access live streaming NDFs for a broad range of EM currencies
One-click deal execution up to one year during local trading hours
Interactive RFQ - deal any size trade via RFQ and include a message to our EM trading team
NDF Fixing Monitor
View your EM NDF net positions
Manage your NDF fixings directly and receive real-time fixing rates
Access historical NDF fixing rates up to one year

Non Deliverable Options (NDOs)
Access EM NDOs live streaming pricing directly from our market leading BARX FX Options Dealer
Execute NDOs via our interactive RFQ functionality
Share NDOs structures and trade ideas internally or with your Barclays sales team