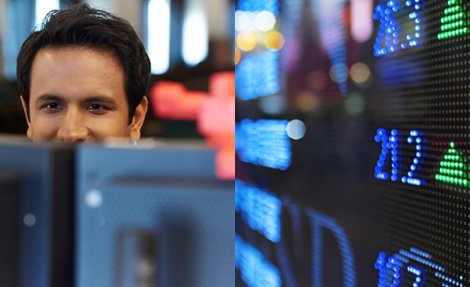 BARX Fixed Income
Trade fixed income on our proprietary BARX Fixed Income platform as well as via a wide range of external electronic market places.
Why BARX FI? I can access consistent liquidity anywhere I want it.
Whatever liquidity you're looking to access, Barclays has the right electronic platform for you. BARX provides you with consistently competitive pricing and the simplest means of execution across a broad range of fixed income products. You can trade fixed income via our proprietary BARX FI platform as well as via Bloomberg, Tradeweb, Bondvision, MarketAxess or via FIX.
Global Government Bonds
Interest Rate Derivatives
€, £, and $ Credit
Bond Finance (Repo)
Mortgage Backed Securities
Municipal Bonds
Exotic Structured Notes
Emerging Markets
Money Markets (CP, Discount Notes, Municipal VRDNs)
Agencies
Inflation-linked bonds
Credit Derivatives
Exchange-Traded Funds
Convertible Bonds
Tailored for your efficiency

Live executable prices and automated trading are available for hundreds of products around the clock and across the globe - so you can transact across US, European and Asian time zones.

Whether you're executing a 'click and trade' order or making a 'Request for Quote' (RFQ), BARX makes it simpler and quicker.
Multiple paths to our liquidity

BARX liquidity is available on our proprietary platform, BARX Fixed Income as well as the following third party ECNs: